DIPLOMA OF HOSPITALITY MANAGEMENT
National Code: SIT50422
CRICOS Course Code: 111541C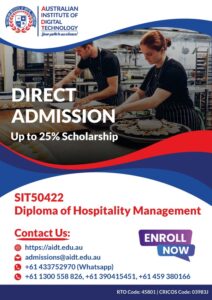 This qualification reflects the role of cooks who use a wide range of well-developed cookery skills and sound knowledge of kitchen operations to prepare food and menu items. Using discretion and judgment, they work with some independence and under limited supervision using plans, policies, and procedures to guide work activities. Completion of this qualification contributes to recognition as a trade cook. This qualification provides a pathway to work as a cook in organizations such as restaurants, hotels, clubs, pubs, cafes, and coffee shops.
The skills in this qualification must be applied in accordance with Commonwealth and State or Territory legislation, Australian standards, and industry codes of practice. No occupational licensing, certification, or specific legislative requirements apply to this qualification at the time of publication.
Mode of Delivery:
The course is delivered face-to-face in a classroom and incorporates a simulated workplace environment and access to fully equipped training facilities at our campus. All units are delivered as stand-alone delivery.
Selection Criteria:
Prior to enrolment in the Diploma of Leadership & Management applicants must provide evidence showing:
Over 18 years old.

Minimum IELTS overall band of 5.5 (Academic Module) with no individual band below 5.0; or TOEFL iBT (internet-based) minimum score of 65 with no band less than 15; or Pearson (PTE) 42 (no communicative skills less than 36); or Any other equivalent assessment of English language proficiency.

Results older than 2 years are not acceptable.
OR
Evidence that, within two years of their application date, they have successfully completed in Australia a foundation course or a senior secondary certificate of education or a substantial part of a Certificate IV or higher level qualification, from the Australian Qualifications Framework.
OR
For levels 1 and 2 Students only, successful completion of the AIDT Language and Numeracy Test conducted on AIDT (for onshore international students ONLY.)

International students applying for a Diploma level course will need to provide evidence of satisfactory completion of Australian Year 12 (or equivalent) or certificate IV or higher.
Please refer to our website, prospectus, and student handbook for more information regarding this course.
Course Duration
:
Duration: 78 Weeks (Incl Holidays)
Course Fee:
Course Fee Offshore: $12,000 AUD
Course Fee Onshore: $10,000 AUD
Course Resource Fee:
Resource Fee: $1500 AUD
Enrolment Fee: $250 AUD
Promotional offer 25% Scholarship on course price if students enroll directly online:
Course Fee Offshore: $12,000 – $3,000 = $9,000 AUD
Course Fee Onshore: $10,000 – $2,500 = $7,500 AUD
Resource Fee: $1500 AUD
Enrolment Fee: $250 AUD
Total Course Fee Offshore: $9,000 + $1500 + $250 =$10,750 AUD
Total Course Fee Onshore: $7,500 +  $1500 + $250 =$9,250 AUD
Get 25% Scholarship on course prices for students enrolling directly online in promotional offer using coupon code.